Bondi to Barrenjoey 100km Urban Ultra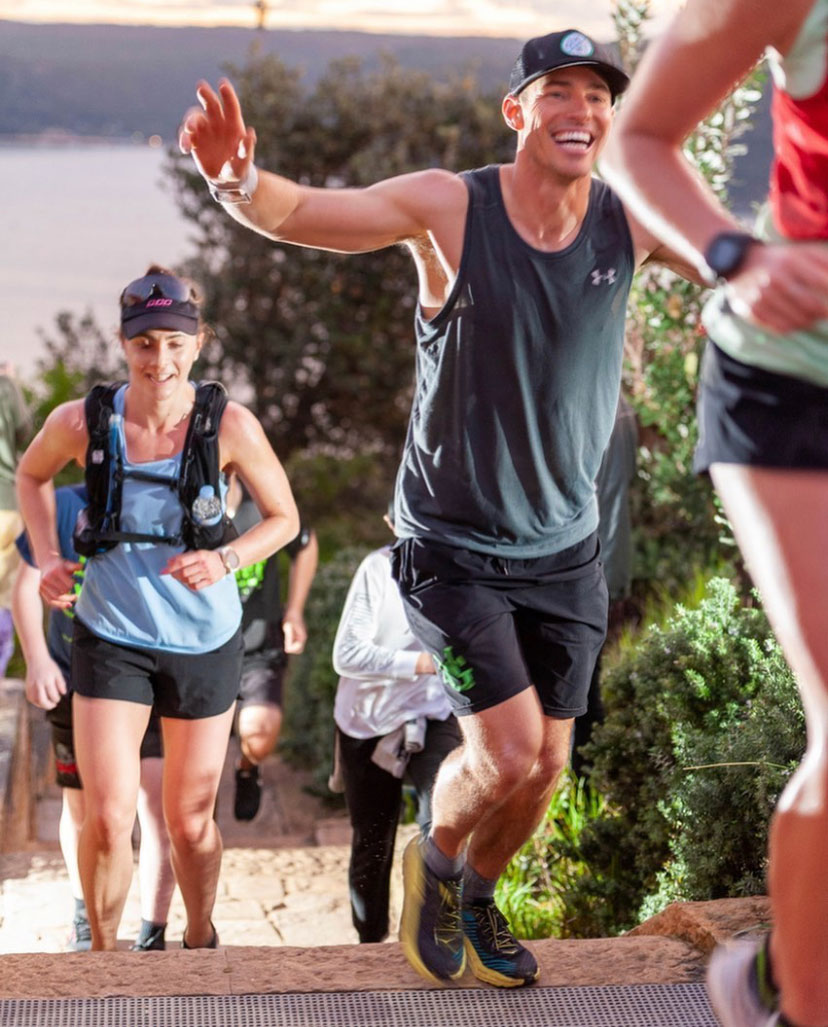 A race like that 100km is an amazing feat by itself but then you throw in elevation of close to 1900 meters and it's an entirely different beast both mentally, physically and spiritually showing you a whole new depth with in you had no idea you had.
About 50km in my hamstrings started to go closely followed by my quads. My left hamstring all the way down to behind my knee was to the point I couldn't completely extend my leg and stride out. At this point any normal person there's no way you continue with another 50km staring you dead in the face as we dropped into Manly then about to continue charging all the way up the northern beaches. After the race driving home I realised how far even Manly to Palm Beach really is, it felt like we were driving forever and I just ran it wtf.
Comes down to absolute utter determination, grit and resilience. I wasn't nearly as experienced a runner as just about everyone out there yesterday but what I have which can only be developed by constantly hardening your mind and pushing to the breaking point where very few people continue year after year in baseball, pursuit of an olympic medal, business, a father, a husband and now in running.
I found out yesterday that this is the ultimate, no matter how prepared or trained up you are we're all going to hit that wall, it's what we do from that point on that defines us. I ran alongside so many amazing athletes some that didn't finish and some that blew me away with their resilience and ability to dig deep and almost appear to continually find another gear. Andy Reid from Bondi Rescue who assembled the team and led the charge majority of the way seemed to be getting faster and faster he is incredible.
Once your mind recognizes you will not stop at any cost, it's almost like for that split second you become one with your true soul and for those next 10km or so until it spikes up again the next time you face that set of stairs or hill you're in complete control and one with the trail/track ( in this case majority of it was road which is so tough on your joints and muscles). It's in this complete present state that you've broken through to the other side and find that extra gear you had no idea you had.
Each patch of grass on the side of the road or path felt like running on sponges after constant one foot in front of the other on the unforgiving road. even going down hills was excruciating pain with quads gone it's the feeling of going down a road with no breaks and one wheel. Not a spot you want to be in.
We planned to meet at 3:30am at Bondi beach with goals in sight to cross the Harbour Bridge at sunrise around 6:15am and the Barrenjoey Light house 100km at sunset around 4:30pm. Amazingly enough we were pretty spot on which is hard to believe as there's so many unforeseen challenges pop up in ultra marathons.
Had a pretty good preparation leading into the race, which was a juggling match in itself as I was trying to juggle recover form the Bondi to Manly 80km ultra 3 weeks ago whilst prepping tapering for this one. I have experienced runners who have been incredible at mentoring me and preparing me for this new journey into endurance running. Some of them were adamant you should not do this it's to soon and your joints aren't fully recovered from your previous race merely three weeks ago. Others said well this is what you signed up for and without even a week passing from your first run you've been chosen by some of the best endurance athletes in Australia, this is what you signed up for!!! Decision time - do I go left or right.
I'm in, I texted Reidy back. Hell yeah, we have a zoom tonight at 7pm for you to meet the team ... he replied. Instantly I knew I made the right decision.
I tried to stay to the book of how nutritionally I prepared for Bondi to manly upping the carbs 10 days out and getting really really pinpoint 5 days out whilst hydrating constantly trying to carry a bottle everywhere I went.
Decent night sleep then that alarm clock went off 1:50am I layed there for minute of excitement plus this is going to suck thinking I knew what I was in for yet again. Showered, sun screened up, body glide (anti chafe everywhere ;) blister shield on my feet, then got dressed. Hamstring glute activation exercises for 20 minutes, that I do daily, then off I went at 2:45am headed to Bondi.
Arrived around 3:20am parked and walked down to Bondi lifesaving tower to meet the team, everyone was very excited and introduced themselves immediately saying they were pumped I was here and joining on the mission.
Reidy rolled up around 3:40am we all took couple videos and the off we went, head torches on starting the journey up into the cliffs of Bondi to Palm Beach. This was my first time running in the dark and with a group of this size, to start off there must have been close to twenty of us. Some running 20,40,60k and the few amongst the group with ultimate the 100km in our sights. As we rolled up into North bondi past Dover points and out to the headland was amazing to have some solid conversations with runners form all over whilst running on the cliffs of Bondi knowing the water was just on our right and glimpses of the Sydney city skyline was to our left but all we could see was the spot light in front of our feet form the head lamps each of us were wearing. We had a solid pace right around 5 minute kms we looped the head land and started coming back down towards Watsons bay I quickly stopped off to the restrooms then in attempt to catch the group was fumbling to put my headlamp back on and clipped a rock in the road tumbling head first coming down pretty hard on my right sight grazing my hand, chest and knee. 10km in to my 100km race I was now bleeding out of my hand and knee as we flew down the rest of the hill in pursuit of the group, well I was now truly all in and it was the first lesson of - you have no idea whats in store for you or able to predict whats waiting right around the next corner. Our first fueling station was Watson's bay 10.7km we stopped for couple minutes grabbed a Banana refilled my water bottle with tailwind a running supplement that includes electrolytes and all the other fun stuff you want to try to keep topped up in your body.
We hit the road again with Rushcutters at 20.5km next fueling station. Love this trail along the water through the bush on wood dirt paths. It's fast and relatively flat minus the couple sets of staircases and up hill climbs. Sun was still no where in site at this point so we were charging with the head torches on still. We cruised down into Rushcutters as a unit all feeling strong. Couple minutes refueling, portable charger locked in to charge my phone which I was using to send out my live tracker to everyone following online.
Then hit the road again this time we'd loop down into the botanical gardens popping us out at the opera house right as the sun was starting to peak in a distance which was breathtaking lighting up shades of pink into the sky we looped the opera house and made our way over to the bridge. Climbing the stairs through the rocks and then up and over the bridge at sunrise was a very special moment and to be surrounded by a team of like minded warriors all charging 30km took me back to how much I missed team sports. It was the constant communication especially in the dark, hole, car, puddle that the person in front would call out every couple people as we moved through different tracks. This would become so important later in the race when there was so many times my mind would tease me with the thought of jumping in a car to the next check point or merely stopping with my legs completely shattered but this is not what I came for I was finishing this race on my own two feet no matter what!!!
We swooped off the bridge and around to Neutral bay up to Cremorne reserve, another one of my fav trails with views back to the city skyline. We stopped for a quick refueling and back onto it next stop Balmoral Beach 41.5 km As we ran up towards Taronga zoo along the water young Jack Haggerty 9yr old from Castle Hill and his Dad surprised me to come support cheer me on. told Jacko to jump out of the car and run up the hill with me. Amazing young kid and it's the random surprises in these journeys that I love and give me an extra spurt of energy right when I need it most. We rounded past near the ferry terminal and continue up towards Clifton Gardens where I was greeted by Daniel and his Dad Ben. Ben has been amazing coming out to take breathtaking photographs of both of the ultras and pops in and out in random spots throughout the day. Dan jumped in and ran couple 100 meters with me. We crossed Chowder bay and then up to middle head dropping down the stairs into Balmoral. 41.5km in legs starting to get heavy but still feeling in one piece which is better than I felt at this point 3 weeks ago which I was excited about. Next chunk after this stop at Balmoral Beach was going to be a big one 15km charge into Manly wharf.
We crossed the spit bridge and started the Spit to Manly trail. Now this trail has a lot of stairs and climbs which tend to beat up the legs quite a bit. I can't recall exactly when in the trail my legs went but it was right around the 50km mark my hamstrings started to go. It's a combination of pulling a muscle, cramping and seizing up if you can imagine that amazing feeling all at once. It's right here which is quite incredible to write that I continued 50km in this shape on pretty much one leg with the quads about to be next to go as we come down into Manly Harbour. At this time I was running with another pretty experienced runner who made me feel a little better to see the agony he was in as we ran together for about 10km with his knees starting to stress and legs giving out.
I offered him fuel I had on me and ended up giving him a couple salt tablets which are usually my go to as soon as the emergency lights go on in my legs or body, I quickly pop in one of those and at least it seems to contain the shutting down and seizing up of my body for another 30mins - hr before we go through it all again. Manly wharf now, 54km in and about to head up into North head and back down into Manly beach. Couple new runners jumped in with others stopping so was inspiring and frustrating to see new runners jump in with some fresh legs who would continue to pace us. As we circled out to North head you can see across to Bondi headland where we we began the journey which was pretty special to see how far we've covered. As we move down a bush trail into Shelly beach it's very steep terrain and the pressure on my quads climbing down these stairs and rocks would eventually be a little to much and my quads has now joined the party starting to shut down. I reached for another salt tablet only to remember I was out of water and running dry at this point, not where you want to be!!! Rolled down into Shelley beach which had a bunch of people we needed to navigate through as we ran up to our next fuel station at Manly beach.
I was craving a powerade or some sort of sugar so quickly ducked into grocery store and picked up blue powereade which I had to contain myself from chugging the entire thing. Drank three quarters and put the rest in my fuel pack for next stop, refueled bottles with tail wind grabbed vegemite sandwich banana and before I knew it Reidy was yelling out Trent "you good to go". "Yep". I replied, looked down to plug in my portable charger and group was moving. Nothing like trying to play catch up on one leg and 64km in.
Now into uncharted territory here as we moved up the norther beaches. I had a couple different Nxtgenners jump in randomly in spots which would make me put a smile on my face and keep on charging finding another gear especially when people were joining me and running along my side, I couldn't stop, I was committed and accountable which honestly was perfect timing yet again. The entire pittwater crew had came out with a sign. Stuart Hanrahan was one of my first coaches back when I was 13, he jumped in and must have covered 6km with me which was amazing at a pretty solid pace as well which gave me a bit of a second wind. As I said this was a new track for me and I knew next stop was long reef car park at 75.2 km which I desperately needed fuel. Whilst running I sent a message to the group for a drop pin to the stop as it came through and I looked it up I had ran 7 minutes past the stop. Heartbroken I had a decision to make do I keep going to the next stop which was at 85km or head back for refueling? I had to go back and get back in order as I was coming back Reidy and the lead group of 3 or 4 others were already hitting the road to the next point. I knew this would have to be a quick stop now that I wasn't looking forward to. Stopped asked couple of the ultra pros what should I fuel with as I'm pretty cooked. They handed me a coke, drink this. pedialite and a banana and of course some delicious snakes There was two other female runners, one who had jumped in 15km before and another who was getting her left leg tapped as her hamstring had gone as well who had been with us from the beginning, so was feeling exactly what I was. This would be my new group of warriors as we moved on towards north mona vale 85km. At this point it is one foot in front of the other. You can only focus on the next 100m and then move onto the next 100. The thought of 25km is hard to comprehend in the physical and mental state you feel at this point. We limbered into the next stop at 85km North Mona Vale fueled up as well as we could and headed towards Whale beach 93km. As we closed in on Newport beach I saw in a distance a group of black and neon shirts waiting on the path. It was Jo Stevens, Tom and Zac Newbold, Jaylin Rae and Jack Lee they were jumping in for the final 12km!!
What absolute legends and how badly did I need them at this point. Now with a group of young hungry Nxtgenners in tow, I needed to find another gear to try to mask the broken state I was in. We ran through to the checkpoint and final fueling station with 7km to go. At this point, it's just put stuff in your body who cares what it is whatever you can keep down. Coke, banana, snakes and a quarter of a vegemite sandwich and back on the road we go.
I can't quite explain to you how hard a sandwich or solid food is to get down and this point. Dehydrated with swallowing near impossible but somehow I mustered to get a couple of bites in. At this point, final leg started with an enormous set of stairs leading up over whale beach headland. Leaning on the railing we hiked ourselves up the cliff and began running again once we reached the flat. As we came out around Whale past the cliffs into Palm Beach we could finally see the lighthouse up on Barrenjoey headland, only issue was it still appeared SOOOO far away. We dropped down a steep hill on the road which I grimaced on every stride down the hill the girls were in better shape than me down hills and seemed to try and use it for momentum, so I was forced to push beyond what I thought I could to merely keep pace. Up hills we were all in the same shape and would have to slow to a stumble or at sometimes a walk as the legs just couldn't withstand the hills or stairs any longer. We dropped down a staircase and popped out onto Palm beach with the lighthouse up on the hill on the other side still appearing quite a ways away. We ran along the path with the beach and water on our right shoulder with only the lighthouse in focus. We couldn't go straight to the lighthouse as the stairs we had to climb were on the left down near the water so we had to run on the sand to the stairs and then get ready for the final 10-minute stair climb straight up to the lighthouse. As we got near the top the delirious energy kicks in knowing you've got about 60 seconds left so we ran the final 10/15 stairs up to the top where Reidy, the crew, and the Newbolds, Mcdonalds and Price families were waiting with cameras ready. As I raised my arms at the finished line and headed to the lighthouse to wrap my arms around it. In those 5 seconds, I wrapped my arms around the lighthouse I could not believe what I had just done!! How long I had endured from the mere breaking point I hit 50km's ago to keep going and be standing here at the end of the most grueling physical, mental tests I've ever been through was esoterical.
Again, I say it over and over but there is nothing special about me. I'm just obsessed with living beyond my perceived limits and showing others that the only limits in life are the ones we set on ourselves. So much larger than the 100km this related to everything we do in life, when we quickly come up with an excuse or illusion that I couldn't possibly do that. But listen to whats actually at place the only shackles are the ones that we put in place and what we're prepared to endure to make it come true. If I can run two ultra marathons in one month after merely taking up running 6 months ago struggling to run 5km. Imagine what you're really capable of and the power that lays within us all.