Boston Qualifier - 3:00:42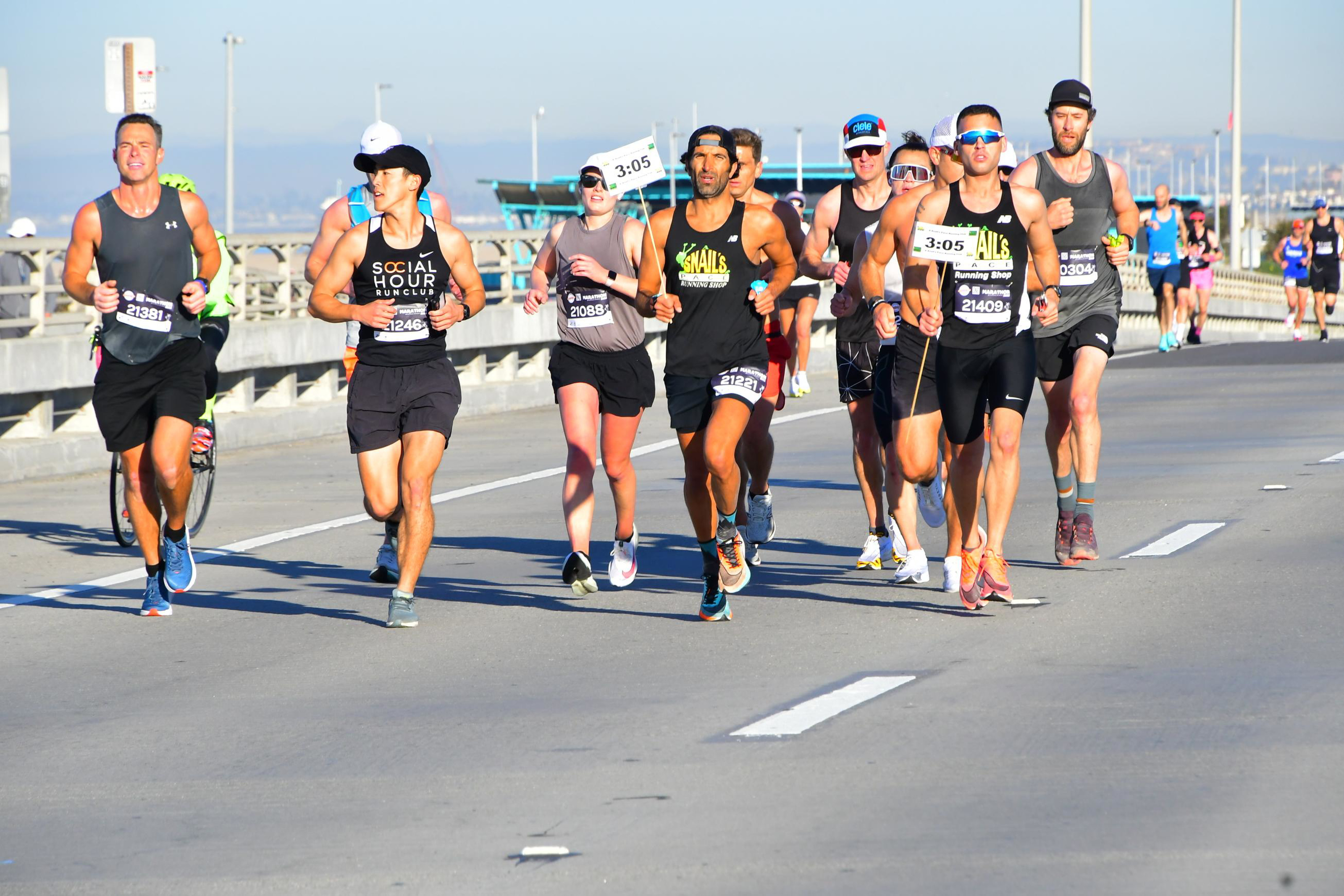 It was here I made the decision, things have got to change. In frustration and anger with myself, I said to myself "from this point, what if not only I could run a marathon but qualify for the holy grail, the Boston Marathon?"
I thought to myself, if I could accomplish something so far outside my current capability then I really could prove to myself and others that anything's possible.
Yesterday, I arrived at my 2nd ever marathon. Training has gone pretty well leading in and my body was feeling…. well…. as good as it could be after three international flights in a week and arriving two days ago from Australia. Well this will be one for the ages if I can pull this off lol
The feeling was very different as I now know what was going to be required to do the once considered by myself unimaginable.
I was ready but I also had a newfound respect for the beast that awaited me.
Plan was this time to remain with the 3:05:00 pacers and pick my spot if I still felt I had it to shoot for the sub 3 marker.
I have to say the running community is one of a kind. There's a saying in life that goes
If you want to go fast, go alone and if you want to go far, go together"
that could not have been more the case and the major difference between the 1st marathon I took on 4 months ago and found myself roadkill on the side of the road.
We had two pacers that took us out and constantly mentored and encouraged us.
Here's another life lesson for you…
It's amazing the difference when we know the road ahead and what to expect. It's also an incredible springboard with whatever we're trying to achieve when we have others on the journey or mentoring us that have been down this path before and accomplished the very thing we set out for.
As I closed in on the 16 mile marker about 25km I saw Chase and Alyssa on the side of the path cheering me on awaiting with some fuel and water. Chasie was holding the water bottle and it was here where the race had just become personal for me. Alyssa told me after the race that while waiting there Chase asked if he could have the sandwich as he was hungry hahaha. Thankfully she was a step ahead and had one for the little guy as well.
We turned back up the boardwalk and this is the part I'd hit the wall not to long ago and witnessed what no runner wants to experience the feeling of all systems shutting down.
There were still about six of us hanging with the two pacers who were continually telling us to relax the arms and reassuring us tis is one of the best groups they've ever had.
We closed in on the 30km mark and I moved up alongside the lead pacer asking him if we're still in reach of a sub 3 finish. He replied with there's just no way with the speed you'd have to go from here on in, we're even going to slow down on the final 5km as we've gone out stronger than expected. I stayed with them for another couple km's as I pondered what to do as I still felt I had another gear..
Do I risk it all and potentially end up not finishing or do I keep pace with the current pace?
One of the pacers sped up to try to go ahead and go to the bathroom.. I took this as my calling.
"Trust the training Trent" I said to myself as I started to speed up with him and broke away from the pack.
This was my life-changing moment and perfect analogy for life…
Sometimes you have to be prepared to see what we're really capable of. This can only be done if you're willing to toe the line and potentially fail, you must go all in.
I thought about Chase, I thought about the training, I thought about coming this far to only come this far. F… it, I'm going for it!!
I got within 30 minutes of the finish line.. I kept telling myself this tis just like the recovery runs I did multiple times a week down to the Cremorne point and back…
I then got to 20 minutes out…, This is just like the quick spin I'd take down to the coffee shop on Ryde and back
At this point, I was fading and fading fast. It was almost like it was just meant to be… Out of know where another runner from the pack must have broken away with me and finally caught me. He said this is going to be close to 3 hrs but we might have it… I replied lets do this thing, lets finish it together.
All of a sudden I was able to pick up my stride and quickened the pace once again to merely keep up with Austin.
We started to charge down runners one by one as we kept speed as others were merely trying to hold on.
Austin told me one more slight up hill right here then couple rolling not he path once we hit the Pacific Coast Highway it's one mile to go.
As we got to the PCH I was holding the best I could he went slightly ahead but I could tell he wasn't pulling away.
Keep going Trent, keep on going… You've come this far, everything you've got…
As I approached the finish line and saw Chase in the crowd I knew it had all been worth it, I had 200m to go as the clock kept ticking,
I crossed the finish line and couldn't believe what I'd just accomplished.
In 4 months I took close to an hr off my official marathon time with a
3:00:42 - 22nd place out of 1,000 runners and 5th for my age division and officially qualified for the Boston Marathon.
I just accomplished what I had once deemed unimaginable.
I feel an incredible strength and inspiration today and it's not because of the run and Boston
It's about setting a goal so far outside of my previous capability and continually pursuing it, pivoting, failing, learning, evolving, growing and finally after lacing them up over and over again I had proved to myself anything's possible by using the very same model and principles at hand.
What's now possible if we can remove that perception of limitations?
The only limitations in life are those we set on ourselves.
Boston and the six stars, let the adventure begin, here we come!