UTA50km Blue Mountains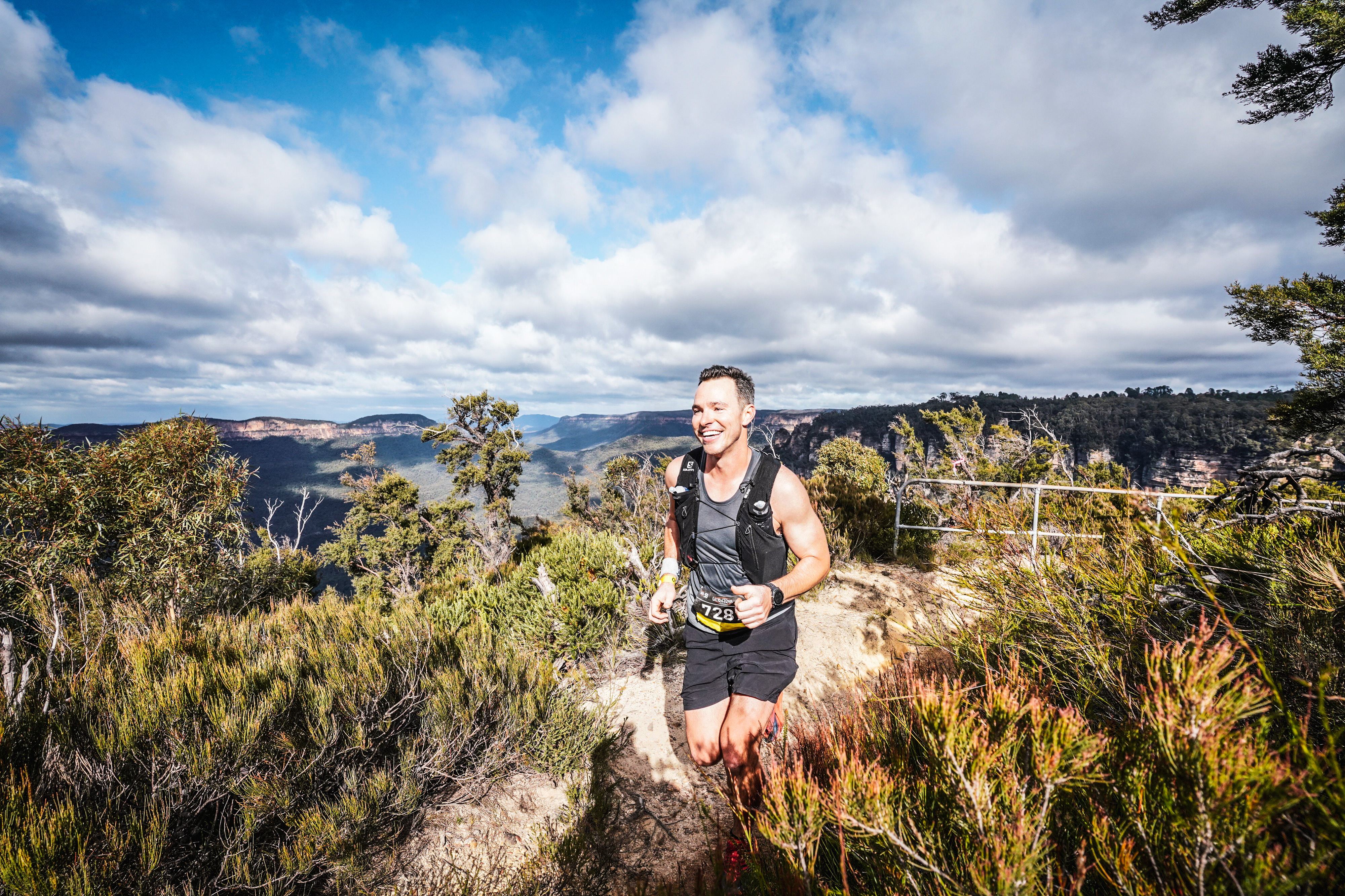 The energy and excitement of the event is amazing in itself. As i hoped off the bus and walked towards the starting line I could see the earlier group runners already tracking a long on the road part of the race. Some with faces of grimace others soaking in every second stopping to say hello and good luck to friends whilst engaging with the endless amount of supporters.The supporters of UTA50 are amazing, even if they've never met you before they were right there to give you words of encouragement and a huge smile back sometimes in the form of this guy is having way to much fun hahaha.
I get a lot of energy from people it was the same when I was playing baseball. I would play each day with the thought of if a kid only got to see me play once I want them to take something away from it. Same thing with running there were so many young families, kids with signs and some who would put their hands out for high fives. I would go out of my way to make sure a simple smile fist bump or a lets go engaging the kids who took the time to come out, if there's one of them that leaves and says Mum, Dad I think I can ask more of myself that what i previously thought I could do then all the running I've ever done is well worth it.
Back to the race.
The first 3k is constant bobbing and weaving trying to separate from the pack. I hadn't run an official race before so I was put in group 7 which is the last group to start for the day, still there must have been a couple of hundred people at the start.
As you loop around you then drop down a hill on the road, with adrenaline piercing my veins I decided to floor it, I looked at my Garmin and saw I was running 3min 20sec km's, which is pretty fast for me. I knew this was either the beginning of something special or was really going to come back and bite me later on.
As we got to the end there was a race volunteer who simply turned us around and we ran back up the very same hill… "Well, that didn't last long haha", I said to myself.
Once we got back up we then ran on the road and back down to the Scenic world staircase. Imagine the steepest metal staircase you could imagine on the side of a mountain and this is it. It was a single file and absolutely no passing at this point… I was chomping at the bit to get moving again. as soon as we hit the rainforest-like bottom of the stairs I was off.
There's so many shades of green and amazing trails through the basin of the mountains, it's simply amazing and I could feel myself start to open it up on the trail feeling one foot hit after another.
I turned the next corner only to find another huge staircase this time made of rocks and natural wood climbing back up the mountain. Once again it was thin, we could pass on certain parts but for the most part, it was once again a single file.
I would use these climbs to breathe and make sure I was intaking any nutrition I could effortlessly.
Once we got to the top, back up to the road, it was go time again. We would pass groups of supporters, some dressed up in superhero costumes. Two ladies that were on a bunch of different parts of the course were dressed up in cow suits!! They were having a blast and I made sure to tell them how much I loved the get-up every time I passed. They would reply "hey it's the smiley guy again, great race" Whoever you were ladies, thank you!!
We ran across different trails and paths on the top of the mountains before dropping back down into the mountains. We had a refueling point at around 20k which was good to get more water, a couple of lollies, and keep on charging.
As I hit the trail again I was starting to get in a rhythm when I missed a step and down I went.. Luckily it was pretty flat at that point. I was able to pull off the infamous superman dive from my baseball days and popped straight back up and really didn't miss a beat… Hahaha the guy beside me I 'd been charging with for a couple of k's said "that was the most graceful fall I've ever seen, 7 out of 10" "hahaha Thanks champion" I replied.
This guy I would continue to pass on the flats and the downhills only for him to then pull me back in during the hills. He was at a consistent steady pace the entire time until the last 10k when it was an even playing field because no one in their right mind would try and run up that hill. So I kept my lead and charged the straights as we ran along the mountain.
We continued down and across the cliff face, the wind started to pick up and the temperature dropped seemingly on the spot. Makes sense now why they make you run with all these essentials including wet weather gear and warm clothing, compass, space blanket etc on the course.
Some of my fav parts were the stepping stones we had to go across. Took me back to running cross country in primary school. I would absolutely love running through the bush and jumping stones etc. Maybe that's why I love running so much, it brings you back to being extremely present like we were when we were kids. There's nothing that matters but the here and now. What a way to live!!
We then rolled into the 28km check point which had a full nutrition station, including food, drinks, salt packets, gels. Thank goodness as my legs were starting to give out and cramp up pretty badly. Each stride was becoming quite painful.
I knew I wasn't as strong as I needed to be as I decided to run only a week before when a buddy reached out and said he got a ticket through Facebook, Ishould join. I had been running but not all the extra strength training which I need to get back into to take my running to the next level. I've also noticed this in the past 3 ultra runs, it's not lung capacity or energy, I honestly feel I can run for days. It's my legs and body break down, my right hamstring is first to go then my quads then it starts to spread through the rest. If I can get stronger and delay this I'll be so much better off. Banana and half, vegemite scroll, electrolyte refill, and couple salt packets, gave myself 5 minutes for the entire refuel process which before I knew it time to go!!
Back onto the trail over halfway down.
We hit a slight incline for about a km then found us running down a pretty deep descent for what felt like a lifetime.. As good as I felt and all the runners I was passing I also kept reminding myself..
"Whatever goes down must come back up"
The only thing was how quickly are we going to have to come back up. It must have been a 6km decline back down into the base of the mountain before turning the corner and then starting the long grueling grind back up.. This was where uta50 is like no other race I've done so far… This hill/trail was so steep the more experienced runners had out walking poles and would literally be pushing themselves up. It must have helped because these guys and girls seemed to be able to climb a lot easier than I could.
I never stopped, even though it seemed to never end I would talk with each person I came upon, passed, or if people passed me. It seemed to bring me energy it also helped to bring back out the competitor inside, if they can keep going then I absolutely can.
We climbed to about 42km before reaching another fluid and glucose refill station. I simply refilled water bladders, grabbed a handful of lollies, and kept on rolling, knowing that there was still a huge ascend in front of me so it would be a slow climb from here. I had my sights set on 6 hours which was now bearing down as I was close to 5 hours 40 minutes so knew I had to keep moving.
Anyone who finishes the uta50/100 is an absolute warrior because I know the hill they've conquered to get to the finish line, this thing never ends. Then you come to a bit of rainforest and flat trail which you seem to see little light at the end of the tunnel. Only to be greeted by a metal staircase going straight up for the final km.
After barely getting up some of the staircases there was usually a photographer waiting for you to take that grimacing painful look only to be faced with another one right around the corner. Can't wait to see those pics hahaha. Don't think I'm smiling in those hahaha.
The final 200m you can hear the finish line and the supporter's roar. I felt an instant charge of energy there was a younger runner that we kept going head to head for the past couple km's we climbed the last hill then once we hit the flat, it was go time. I found another gear and was determined I was going to finish in front… I turned the last corner with hundreds of supporters surrounding the finish line to see two runners and a lady with her arms raised coming to the finish line, I sprinted the final 50m to finish in front of the lady who was celebrating her epic race in a time of 6 hours and 30 minutes.
As I sprinted through, I was caught by a couple of the volunteers who were all exploding with laughter as to how I finished. They then told me there's a quick bag check for required equipment. We only need to see your rain jacket and long sleeve cotton shirt… Hmm "Rain jacket - check, long-sleeved shirt don't have one - I like to run in singlets" I said as I pretended to dig around looking for it hoping the lady would feel some sort of remorse as I just ran for 6 and half hours up a frickin mountain haha.
"Sorry, I'll have to add 40-minute penalty to your time" she regretfully told me…. "sign here" she finished with.
I signed knowing what I completed and that's all that matters.
I finished 200th out of 1850 runners & 65th for the 30-39yr olds bracket…
Not bad for a Saturday run!!!!