Bondi to Manly 80.7km
Yes, I did
What an amazing physical, mental, emotional and spiritual journey yesterday was. I've never experienced anything like it. With my legs starting to give out and seize up 40km's into the journey how did I go another 40km's?
Well, this was my question leading into this as well how do these people do this, I want to see for myself what that wall feels and looks like. Well I definitely experienced "the wall" yesterday not only once but every time 40km's in I turned that next corner and faced another barreling flight of stairs or hill going straight up for what felt like an eternity.
It was not something that I felt approaching or coming on, it literally BAM stared me dead in the face, putting it's foot down this is it, you're not going to make it up this hill. The first time it hit me is etched in my brain and will be for the rest of my life. It was coming up past Mosman ferry wharf (a trail I've done 3 or 4 times before). I climbed a set of about 20 stairs kicked up a slight hill once I got to the top of the hill that swooped around to the right, there it was another set of 30 stairs and a hill steeper than anything I remembered or had taken on so far with 40km's on my legs already. As I took the 1st couple stairs I said out loud "well this is what we came for" This is what I wanted, "now lets see what you're made of" In my mind leading up to this the moment of the wall was going to be something I'd be able to get amped for and feel it coming which I could prepare for. It was actually nothing like that, it hit me like I'd imagine that surfer feels that pops up from a duck dive under a set of waves only to find a 50ft wave about to crash down on them. It was soul breaking, it crossed my mind for a second this can't be done. Then I looked at my wristband which had a photo of my 3 yr old son Chase glued to the inside, this was and is always my WHY. I imagined sitting with my son either now or down the track and trying to preach to him "son you can do anything you put your mind to in life, the only limitations are the ones we set on ourselves" then Chase saying back to me "Ok Dad but how bout that race you did in which you didn't finish the race" Right there and then something infused into my veins that I can't quite put words to, I'd found a 6th gear when my mind and body were telling me it's over you're done.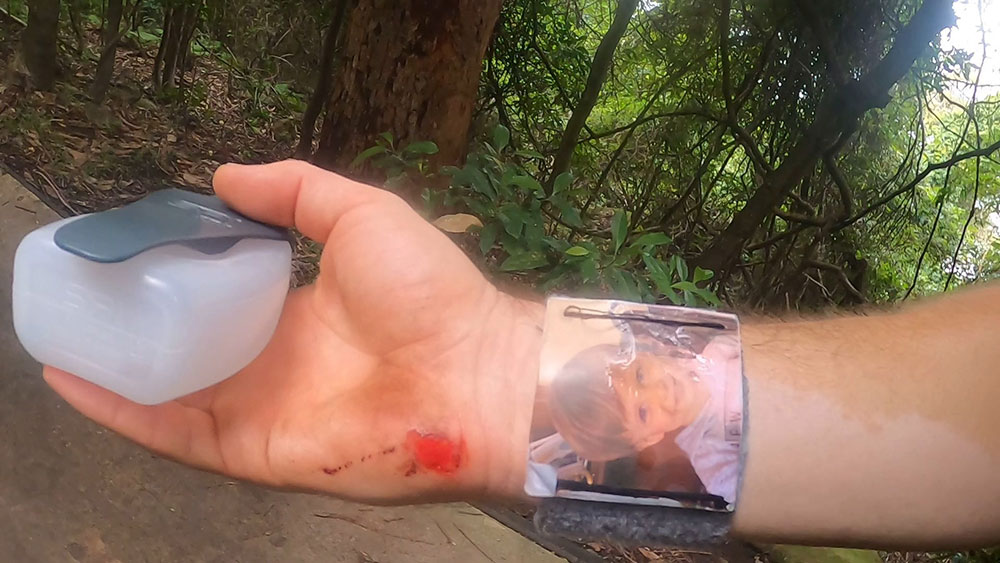 Guess the lesson here is that if we have a powerful enough WHY, that can spark and infuse our veins when everything else is telling us to stop, then there really is nothing we can't do. I faced this head on about 12 hours ago and can't explain to you how I continued other 40km's after hitting this place and it wasn't only the one time that I explained above it was every time I would hit that next flight of stairs or monster hill again returning me to my WHY and my photo of my son.
The photo didn't only represent my son but also every kid that I mentor and preach the same message to. What sort of a leader would I be if staring that same roadblock or mountain of doubt in the eyes and didn't charge through. It was so much bigger than just me and finishing the race it was the message I'm trying to relay to everyone around me including myself. There really is no limitations of what we can do. The human body is capable of so much more especially when it works out ok this guy is not going to stop, he's proven that over and over again so we better line up and get on board.
Race day couldn't have been better weather for an Ultramarathon. Beautifully clear 17 degree day in which the sun was beginning to rise just as I took off from Bondi at 6:15am.
The Bazzana's and McDonald families met me at the starting line and had been waiting there for me from 5:45am. I couldn't have asked for a better support crew to begin the journey, it also helped me ingrain the faces of Sean of Travis in my mind throughout the race of here's two players at different stages of their careers looking at me in awe that I can do anything. What they don't know is I'm just like them, with all the same thoughts and doubts that may swoop through our minds only difference is I've had a couple more years under my belt of what I attach to or allow to pass straight through me.
We shot a video at the starting line and then the gun went off as I crossed Gary's make shift starting line and the journey began.
For me leading into this the first Bondi hill climb up into the headland would ultimately decide the race as I'd get a feeling for where my body was at.
The morning before I had my last light training run in the morning it was 2 mile/3.5km which I could do easily at this point in my training. I was breaking in my new Hooka One Ritcon shoes which I was was breaking in this last 2 or 3 runs before the big day. I'd felt it a little bit at the end of the 7km's day before but this last run morning before the Bondi to Manly I felt my right calf tighten up like a ball that felt like it could give out at any point. I finished the run but now with extreme fear and panic coming over me about my calf I had no idea in this shape how I was going to take on 80km's the next day.
If I wasn't ultimately committed and had announced the run for a month leading into it I probably would have delayed the run in fear my calf was going to go very early on. But it's amazing when you wholeheartedly commit to something and there is a bunch of people holding you accountable, you're now committed to find a way. I had lessons from 8:30 - 2:00 in which each step walking or even kneeling down I was 100% focused on my calf and how it was feeling. I switched out my shoes back to my old Hooka One shoes that I'd been running in for months previous and it seemed to be slowly softening the calf at least to where it wasn't going to go any minute although I could still feel it even walking. I was forced to make the decision to pivot last minute and run in my old training shoes. Not ideal to make this adjustment the night before but something I felt I had to do otherwise I wasn't going to stand a chance.
As I climbed the first long hill up into North Bondi and Dover Heights peering out to the Pacific Ocean it was a magnificent sight sun was starting to rise and the orange was reflecting on the water, simply breathtaking. The trail then takes you back up into the streets as it opens up on the left and you get an amazing view of the Sydney skyline off in the distance. Hard to believe you'll be running across that bridge in about 2.5/3 hrs as it seems quite a ways away off in the distance. Trail then cuts you back down along the cliffs and you run into The Gap park with winding trails along the cliff through bush looking out onto the water, one of my favs.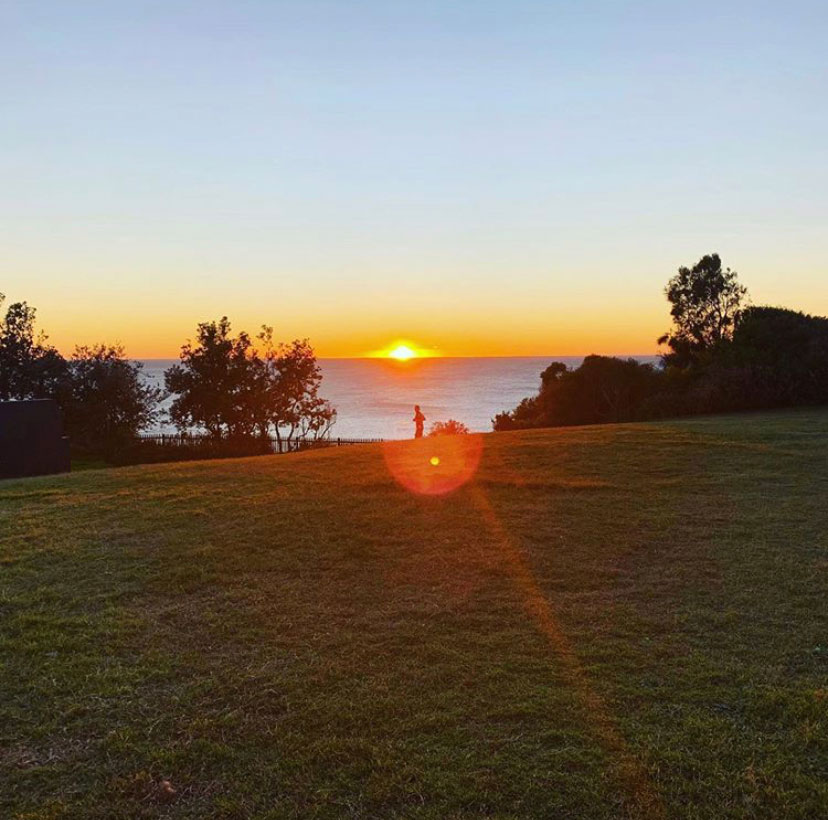 Track then continues on and you run down and around Hornby Lighthouse. This is a very emotional loop as you have panoramic views of darling harbour where you can see the opera house and harbour bridge stretching to middle head and into North head across the water which is the last couple kilometers of the Bondi to Manly and a very steep terrain waiting for me 75km's away.
You then run back down the hill and along the sand at camp cove. Funny cause people taking my live starve beacon thought I was running in the water a this point as the red tracking line actually flows into the ocean.
Track then you through Watsons bay past Vaucluse and into Sydney National park near Nielson's bay this is up there in my top 2 or 3 parts of the entire run. It's an amazing wooden path that runs through bush and trails along the water covered by palms and trees. Fast part of the trail as well was able to really lock in and move through tis section, body and legs were feeling amazing.
Then cruised down North head road into rose bay and over to rushcutters bay where I met Andrew for my first fuel station. At this point I was moving a pretty quick pace, poor Andrew with water, banana in hand and trying to film was trying to keep up stride by stride with me, which he did. Andrew is my best friend from High School we've been inseparable since yr 8 and it was actually with Andrew having a coffee about 2 months ago that the idea of Bondi to Manly even came into my mind. He said one this is all over we should go aout and do parts of the Bondi to Manly tail. I said Bondi to Manly how far is that? He said I think it's about 80km's. How long does it take I questioned, Andrew said I don't know I think people do it in a week or so. I'm going to run it in a day. Right there and then the decision was made. Andrew's eyes peered back at me and told the whole story as he knows me better than anyone it was a "oh shit here we go" So couldn't have been more excited to have Andrew in different parts along the course to check in with mentally and help me stay fueled. He then jumped in the final 15km's hill climb into Manly head as he could tell i was not in the best shape.
After seeing Andrew in Rushcutters trail then heads up into quit a few 20/30 step staircases and steep hills this part take a toll on the legs as you're constantly climbing it feels like. Once getting through these sections you drop into Woolloomooloo and into the Royal Botanic Gardens which is an amazing run leading into Sydney harbour.
The night before Ben Price had reached out and said I'd like to come out support you and take some photos along the run. We'd arranged for him to meet me as I came out of botanic gardens right near the opera house which is the iconic part of the entire race. I ran around the opera house and then back down through circular key and into the steps leading onto the harbour bridge for my second fueling station this time an all faithful vegemite sandwich. I'd been lucky enough to be put in contact with Samantha Downey couple days before the race by close friends Scott and Sarah Tunkin. They said you have to speak with our friend Sam she' ran marathons all over the world and is a machine. Speaking with Samantha for days leading onto the race I could hear the excitement and energy she exudes it's contagious. She helped immensely with fueling for the race and getting my mind ready as well. She has accomplished the 6 stars of marathon running which some people never accomplish in a lifetime. This includes the 6 major iconic marathons across the globe Japan, Berlin, Boston, Chicago, London and New York. More about the 6 stars to come.
Crossing the bridge I ran past the Bazzana's who were positioned once again to cheer me on and inspire me to keep on charging!!
Off the bridge I dropped down towards Luna Park and along the harbor into Kirribilli. Luckily I'd looked at the course one last time the night before and noticed this was an extra part I hadn't noticed or ran before. Here near the Marina was one of the final blows to any freshness and bounce I had left in the legs who were cruising up to hear. Along the wharf I kicked to the left and saw a spiraling stair case about 6 stories high and must of been 100 stairs. What the F…. is this I said to myself. Nothing like a little curve ball 37km's in lol.
Then looped up and hit the flat towards Cremorne reserve. This is one of my other favourites. Beautiful flat run along tree coverage along water where it completely opens up with views of entire harbor and city, beautiful!!!!
Down the trail and onto Mosman Bay.
This was it and it hit me like a ton of bricks. First you hit couple flights of stairs then up a hill slight right turn and Trumfield Lane about a 100m hill straight up, if that wasn't enough around that corner there's another 30 stairs climbing to the side of the road before reaching a down hill stumble with my should being tested to Musgrave St.
Trail then fly down to Sirius cove where I met Mitchell who had water and a external battery cheer for me if I needed it. I had no idea everyone who was tracking me through the live beacon could see my battery level and was so concerned I was going to run out of juice. Again the people and support who came out and supported me online had been quite amazing and very touching to know I've got so many amazing people in my life. Here we swoop past Taronga Zoo and down towards Bradleys head another amazing trail with breathtaking views and nice flat fast trails.
Now about 50km's in through Clifton Gardens and up into chowder bay I was about to be faced with another huge test. As I said the past 5 km's were relatively flat stretch then I dropped down onto the beach at Chowder Bay and had to now climb up the hill into middle head before dropping into Balmoral beach. In other words this is endless stairs and hills climbing back up to the headland. I'm talking 20/30 minutes straight up with close to 60km's on my legs. Once again peered to the inside of my wrist where Chase was glued to my wrist to refocus on my WHY. Boom there's another shot to the other side. Mitchell met me at the top when I was starting to shut down yet again with cramping and hamstrings going. Popped another salt tablet which I was trying to stick to 1 an hr but this was an emergency my body was shutting down so I didn't care how long it was since I took the last one reached into my pocket unlatched the case which I had the slat tablets and popped one as quickly as I could while still on the move. Mitchell did an amazing job of talking with me to keep me present and refocused taking my mind off the grueling test that still played ahead. we dropped down to the headland around the gunner barracks and tracked back up the hill before dropping down the stairs into Balmoral. At this point now my quads are starting to give even going down the stairs.
Now stumbling down the stairs into Balmoral park before hitting the beautiful Balmoral beach one of my favorite spots in the world. I was surprised by the Nati's who came out to cheer me on . Inspiring family in themselves this was another perfect timing to give me a little more fuel and inspiration to keep on charging. Along balmoral beach and the marina was a beautiful sight again sun was glistening on the water. The ocean looked so good and refreshing but there would be plenty of time for that later back to the mission ahead.
End of Balmoral beach past the final round about is a flight of stairs noting to hectic but then it leads into a pretty steep hill up before dropping you back down into Chinaman's Beach. Here you hit a solid set of stairs couple stories high then come out into that 50 ft wave staring you in the face yet again, Cyprian St!! Holy F… This one was larger than Mosmon but the same feeling if it was a movie with music playing in the background it's the part of the movie where the entire soundtrack changes and goes dark, that was the feeling that took over as soon as I saw this. F…. it, I'm doing this as I tracked up into the hill one foot in front of the other string at my wrist every couple strides looking at Chase and pulling everything I've got deep out of my soul. At the top I hit a slow descent down Parriwi Rd. The previous climb had taken everything I had and I was now in a pretty shaky state, starting lose a bit of consciousness. I would blink but would notice my eyes shutting for what seems like a second or two at a time. One instance as I was stumbling down Parriwi Rd towards the Spit bridge I caught myself running int he middle off the road into oncoming traffic. Luckily it's pretty steep hill and the car didn't seem to think to much of it as it wasn't moving very fast and simply moved around me. I'd be lying if I didn't say I was pretty shaken up by it and concerned by what was happening physically and mentally was my body switching off just saying enough's enough we're taking you down 60km's in with 20km's still to go from Spit to Manly then up into Manly heads.
That Sydney Harbour to Spit Bridge leg had beaten me up way more than I'd imagined it would and still had 20km's, close to the furthest I've previously run in my training still in front of me.
Andrew met me at Clontarf pier on the other side of the spit bridge with some more fuel and water. We shot a video and I'm pretty sure I was mumbling and starting to hallucinate. I couldn't remember where I was and could see a bit of fear in Andrew's eyes although he never said anything he just said lets go I'll run with you for a little bit then get some gatorade and fuel and meet you at the Manly Harbour.
The Spit to Manly track I've ran couple times before but never noticed how many stairs and steep climbs there were until today. The trail was starting to fill up with it being mothers day bunch of families were out making it harder to pass and keep pace on the trail. Majority of people were great and would move when I'd approach and tell them on your right. There's always the one or two muppets that were on their own planet that I'd have to ride pretty hard or let them know yet again HEY MOVE!!!
Each stair case was excruciating through my quads as I'd have to lift myself up reaching for branches railings anything I could grab to try to leverage up the stairs taking pressure off my legs.
Running dry on water body was starting to struggle again so I tried to stomach another gel which 'd had 3 of already on top of about 12 energy blocks. Was very hard to force myself to get down especially with a dry mouth and no water. At one point felt like i would throw it up but was able to keep it down and keep charging.
There's a lookout the trial takes you past called Dobroyd Head lookout which pretty surreal as it has panoramic views al the way back to Bondi headland where I began 7 hours and 70km's ago.
I then ran down along the water through Fairlight and into Manly harbour, seeing the Baer family cheering me on and passing me a much needed bottle of water. Once again perfect timing to give me a nice little boost. As I dropped into the Manly harbour Andrew had grabbed a gatorade as I said I feel like I need something other than plain water with a bit of electrolyte or sugar in it. He had orange gatorade, water and banana in hand and said lets go we're finishing this together.
We took off up into the North Head national park. Not after making one slight wrong turn nothing like running into a dead end when your 70 km's into a run and struggling with every stride lol. So we turned around backtracked and got back on course. This time we both had our phones out making sure we stayed on track as I couldn't sustain another missed turn. We then hit Collins beach road which must be a 600m street climb straight up. Andrew said I'm taking the lead stay on my heals keep on going. At this point I didn't even have time to complain or say stop Andrew had stepped up at jus the right time. We then got up to the top of the climb and turned right into parade Ground which was a brown clay dirt arena almost like a mini coliseum you'd see for gladiators was pretty cool as I felt I've been in the ultimate 7 and a half hr battle with body and mind.
We then ran down into the Gallipoli Memorial path which was amazing and pretty special to be 6km's from the line and be honored to see all the remembrance plaques and statues. As we completed the Fairfax lookout loop and headed back towards Manly Beach Andrew said we're on the home stretch enjoy this take it all in.
We dropped down a pretty tough bush trail path down rocks and stairs which were testing the quads on each drop before winding into Shelly beach. Path leading into Manly Beach form Shelly beach was packed with people scattered everywhere. Having to weave and wind through the people I could see the finish line in sight.
Couldn't believe I was closing in on the unimaginable in the eyes of so many people. A surge of energy hit me the final 100m and I sprinted the final straight away legs feeling like they did when we set out 8 hours previously across the finish line. Stumbling to try and stop the Strava timer on my phone and stay on my feet I couldn't fathom what I had just done. With my legs giving out and hitting the wall at 40km's I was able to defy the odds and push on for another 40km's to finish the Bondi to Manly 50 mile / 80km Ultra marathon in 7 hours and 54 minutes.